Like the saying goes, if there's one thing predictable about Spring weather it's that it will be practically unpredictable. If it's anything like this week, there's plenty of wet weather before we hit the heat of summer. The Dunstan Group can have you and your crew covered for the rainy days ahead. Here are some of our seasonal favorites for Spring! 
Inverted Umbrellas
Every time we see these we wonder; why didn't we think of that? Like any old umbrella, this inverted umbrella has you covered. But once you're in the house, the office, or the car, it folds its "wet side" away to keep floors and car seats dry, too. Genius!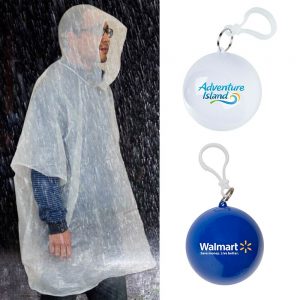 Rain Poncho Ball
We've all been caught in the rain without the proper gear. Make it easy for your clients, friends, and team members to be prepared for Spring storms — and keep your brand close at hand. The Rain Poncho Ball includes, of course, a waterproof poncho enclosed in a colorful, brandable, ball! Included clip makes it easy to attach to bags and backpacks. 
Wet/Dry Bag
Take it with you AND keep it dry no matter the forecast or conditions. This water-resistant day bag is great for travel, trips to the gym or the beach, and anywhere else you want to keep your wet and dry gear separated. A big main compartment is paired with a mesh zipper compartment for the ultimate ease of use. Includes a removable carry strap, too! 
Silicone Waterproof Shoe Covers
Waterproof, packable, and perfect in a pinch — or any other time you need your feet protected from the wet weather. We love the grippy sole, and the BIG space for branding, too. One size fits most adults; made of stretchable, easy-to-wear silicone. 

The North Face DryVent Jacket
An impenetrable barrier between you and the elements. The North Face DryVent rain jacket is a waterproof, breathable, technical jacket that lets you explore the trails — or anywhere else — without getting soaked. Plus, the100% windproof fabric blocks the gusts, while pit zips and an adjustable hood customize ventilation. Men's and women's sizes and colors, too!